Bridgeways' Statement Concerning the War in Ukraine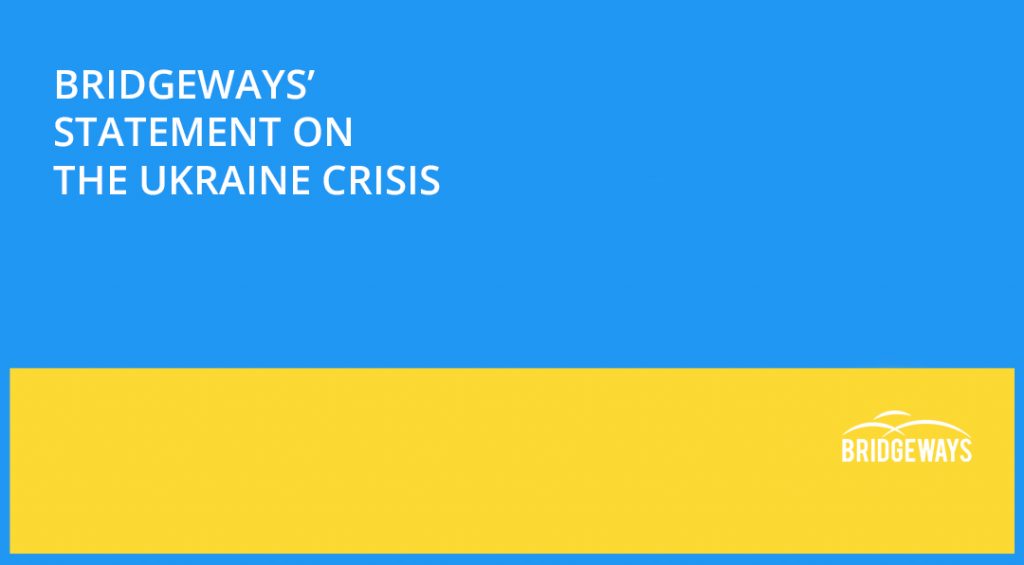 "Bridgeways stands with those peoples that have suffered and continue to suffer devastating losses from the conflict in Ukraine. We understand that with conflict and war, there are no winners. As we see protests opposing Russia's actions all over the world, including within Russia's citizenry, we are struck by the amount of support and solidarity with Ukraine and with people's willingness to stand in the face of tyranny and oppression.
Upon reflection, Bridgeways would also like acknowledge as a society and country, our blind spots, and the impacts of these blind spots, as a leading social organization invested in quality of life for all individuals in a manner that facilitates growth, independence, and a sense of community.
Just as important, are other conflicts and acts of oppression that are happening throughout our communities within the United States and the world, that may not be receiving the same level of attention. These are happening in places near and far, in countries like Ethiopia and Yemen. We say this not to minimize the seriousness of Ukraine, but instead to acknowledge and recognize that a conflict within a European country, like Ukraine, more easily captivates the U.S. imagination than that from countries in Africa or the Middle East.
As a non-profit we understand that the amount of coverage an event has can impact the "what, why, when and how" that people give their support towards helping the victims of those conflicts. We have shared several links below with ways you can support both, the conflict in Ukraine and the ways you can support other, less covered conflicts and wars.
Bridgeways will continue to reflect on how we can support each other and build a community locally and globally that promotes equity, safety and dignity of all people and we would like to encourage our community members to do the same."
Supporting each other during these times:
Pandemics toll on mental health:
More info on conflicts:
How to Donate to Ukraine:
How To Donate to Yemen:
How To Donate to Ethiopia: